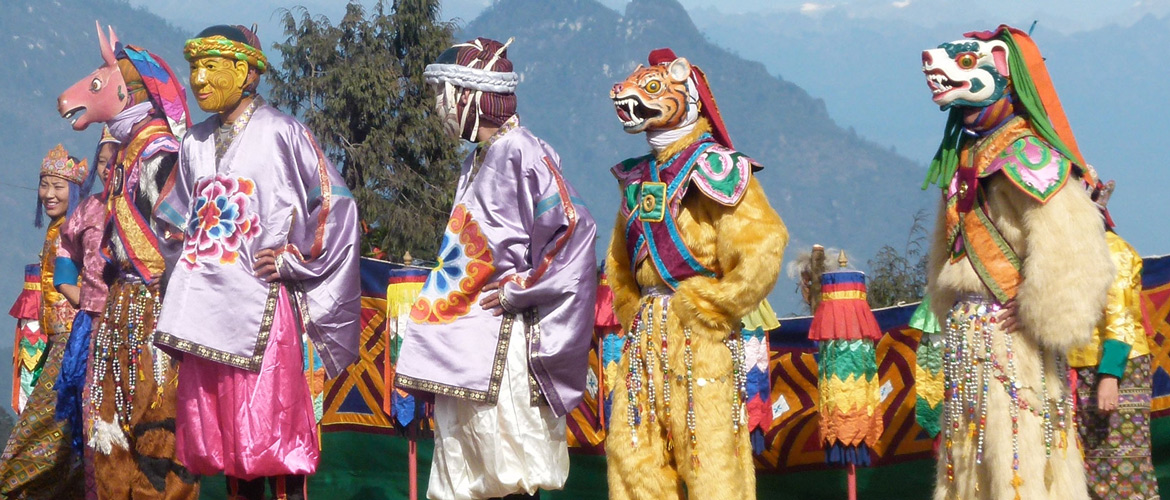 Day 01 Dec 11: Arrive  Paro
Fly into Paro  by Drukair flight KB 401 at 14.25 . After immigration and customs formalities, you will be received by the representative of Sky Travels and driven to your hotel.
After checking into your hotel and lunch visit the following:
Rinpung Dzong, built in 1645 to defend the valley against Tibetan invaders. The Dzong is now being used as an administration center and school for monks.Then walk down to Rimpung Bridge (Traditonal Bridge), oldest bridge in Bhutan.
Farm houses in Paro Valley and a visit to a farm house offers a good glimpse into the lifestyle of a farmer.
Druk Home Museum (private Museum) which exhibits historical and religious artifacts.
Overnight at a hotel in Paro
Day 02 Dec 12 : A Day Hike to Taktsang Ghoempa (Tiger's Nest Monastery) & Paro to Thimphu (distance: 54 km and estimated driving time: 1 hour)
After breakfast, hike up to Taktsang Monastery, also known as 'Tiger's Nest'. The climb up to the viewpoint will take around 1 ½ hours and from there you will enjoy a spectacular view of the monastery clinging to the side of the cliff. Stop for refreshment at the View Point Cafeteria.Then walk further up to the monastery which will take about 1 hour. It is said that in the 8th century Guru Rinpoche flew on the back of a tigress from eastern Bhutan to this place and meditated in a cave here for 3 months. The principal Lhakhang (monastery) of the present monastic complex dates from 1692. Taktsang was damaged severely by fire in 1998 but has now been fully restored to its former glory.After visiting the monastery, walk back down to the road on the way stop for lunch at the view point cafeteria and then walk further down to the road point. On the way, visit Kyichu temple,one of the 108 temples built in the 7th century by the Tibetan King Songsten Gampo. The story goes that a giant demon lay across the whole area of Tibet and the Himalayas and was preventing the spread of Buddhism. To overcome her, King Songtsen Gampo decided to build 108 temples, which would be placed on all the points of her body. Of these 108 temples, 12 were built in accordance with precise plans.
Then drive back to Thimphu.
Overnight at a hotel in Thimphu.
Day  03 Dec 13: Dochula Druk Wangyel Festival
After breakfast drive for about 45 minutes to Dochula Pass (3140 m) to attend the Druk Wangyel Festival. In the clear winter sky you will get to enjoy the panoramic view of the Himalayan Mountain ranges.
Dochula Druk Wangyel Festival program
Azhe Lham (Folk Dance)
Dance of Gadpo Ganmo (mask dance)
Neyang Dochula written by karma Ura (Folk dance) or Dance of Jetsun Milarepa and Tsering Chednga.
Part I. Jetsun Milarepa and Five Enchantresse (Mask dance)
Pawo Palden Drukpa written by HH Je Khenpo (Folk dance)
Part II. Jetsum Milarepa and Five Enchantresses (Mask dance)
Part III: Jetsun Milaraepa and Tshering Chednga (Mask dance)
Neladangpamichag by HH Je Khenpo (Folk dance)
Gakid Palzom by Gonpo Tshering (Folk dance)
Ngonjon Gyalwagongma (Folk dance)
Phodrang Dangpa Michag Folk dance)
Gyalwa Shacha Muni written by Gonpo Tshering (Folk Dance) Dance of the Heroes.
Part I. Farewell of the Heroes (Folk dance)
Druk Puna Dechen (Folk dance)
Luchochig Lhadangsungma Chod by HH Je Khenpo (Folk dance)
Part II. Combat of the Heroes (Mask dance)
Lha Ugyen Pema by Gonpo Tshering (Folk dance)
Sharitseney by HH Je Khenpo (Folk dance)
Kidpu Drukgyi Tsenden By HH Je Khenpo (Folk dance)
Part III: return of the Heroes and Encounter with Boddhisattvs (Mask dance)
Tashi Labey ( Farewell folk dance)
After the festival drive to Punakha which about 2 hours drive from Dochula.
Dinner and overnight at a hotel in Punakha.
Day 04 Dec 14:Punakha Sightseeing
After breakfast, drive through upper Punakha valley and take a hike through farmhouses to the beautiful Khamsum Yuelley Namgyal Lhakhang (temple) built by Ashi Tshering Yangdon Wangchuck (the Queen Mother of Bhutan)  for peace and stability in this ever-changing world. This temple is situated on the hilltop overlooking the valley below. The leisurely walk up to the temple would take about an hour. Visit the temple and also enjoy the breathtakingly beautiful view from there.
Then visit the Punakha Dzong, located on the island of the Pho – Chu (male river) and the Mochu (female river). The dzong was built in 1637 by Zhabdrung Ngawang Namgyal (the person who unified Bhutan) to serve as the religious and administrative seat of the region. It was here that the dual system of government was introduced in the 17th century and in 1907, enthroned the first King Gongsar Ugyen Wangchuck. Damaged over the centuries by four catastrophic fires and an earthquake, the dzong has been fully restored in the recent years by the 4th King Jigme Singye Wangchuck.  At the dzong, you can see the highest standards in woodwork.
After lunch drive to Metsina Village and take a 20 minutes' walk to visit the Devine Madman's Monastery-Chhimi Lhakhang, famously known for its fertility shrine, where one can receive a special fertility blessing.
In the evening you may visit Rinchengang village in Wangduephodrang where you will take a short hike through the village and have free interaction with the villagers. Round trip hike will take about 1 hr. At the same time you can view the ruins of Wangdue Dzong (the Dzong was razed to the ground by fire in 2012).
Dinner and overnight at a hotel in Punakha.
Day 05 Dec 15: Punakha-Phobjikha-Punakha
Distance: 64 km,estimated driving time: 2 ½ hrs  for one way
After breakfast drive to Phobjikha valley through the dense forests of the Phobjikha Valley you arrive at Gantey village where you see the Gangtey  Monastery and visit the monastery. Phobjikha valley is part of the beautiful Jigme Singye Wangchuck National Park ( formerly known as Black Mountains National Park), one of Bhutan's most important nature sanctuaries.  Each winter it is home to a flock of 300 rare and endangered black-necked cranes.  The surrounding hills and mountains are home to nomadic shepherds and yak-herders. This is one of the most remote and untouched regions in Bhutan and is only just opening its doors to the outside world.
The Black necked cranes start migration to this area from November each year. You will have refreshment and lunch at a resort/restaurant in this valley. Afternoon you can visit the Black Necked Crane Center and enjoy the fascinating sight of these birds in this beautiful scenic valley.
In the late afternoon drive back to Punakha and overnight at a hotel in Punakha.
Day 06 Dec 16: Punakha-Thimphu
Distance: 71 km,estimated driving time: 2 ½ hrs
After breakfast drive to Thimphu and after lunch at Thimphu visit the following:
After breakfast , drive to Thimphu and after lunch visit the following:
Traditional Bhutanese paper making factory. The handmade paper making in Bhutan stemmed from the age old tradition originated in 8th century of Bhutanese history. The handmade paper constitutes as valuable National heritage of Bhutanese cultural identity and is preserved through all the ages. The Traditional paper is recognized and held high esteem both in home and outside world. Jungshi Paper Factory was established in November 1990 as an undertaking of the Royal Government of Bhutan. The unit now boasts as a major and sole dealer in handmade paper and its products.
National Textile Museum which is a good place to see the art of traditional weaving being kept alive and preserved through exhibition and has a good collection of old textiles which are rich in colors and designs.You will also see people weaving with intricate designs.
School of Traditional Painting of Arts and Crafts where students undertake a six-year course on the 13 traditional arts and crafts of Bhutan.
Simply Bhutan– A living museum of rural life  which provides visitors and tourists with fascinating insights into the Bhutanese material culture and way of life.
National Memorial Chorten, chorten literally means ' seat of faith' and Buddhists often call such monuments the 'Mind of Buddha'. Meet the elderly local in circumambulation at the National Memorial Chorten.
Tashichhoe Dzong, a fortress of the glorious religion. It was built in 1641 by Zhabdrung Ngawang Namgyel and was reconstructed into present structure by the late King, His majesty Jigme Dorji Wangchuck in the year 1962-1969. It houses the secretariat building, the throne room and the office of the king, and the central monk body.
Craft Bazaar where craftsmen and artisans from across the country display and sell their handicrafts.
Overnight at a hotel in Thimphu.
Day 07 Dec 17: Thimphu Sightseeing (National Day Celebration) and Thimphu-Paro
After breakfast attend the National Day Celebration which will be held at Changlimithang Stadium and after lunch visit the following:
Takin Preserve, which houses the national animal the Takin that is only found in Bhutan. This is an extremely rare member of the goat family. Found in herds in the very high altitudes (13,125ft and over). They live on a diet of grass and bamboo. It can weigh as much as 550 pounds.
Witness Archery game which is National sport of Bhutan.
Kuensel Phodrang and take a short leisure hike to the Kuensel Phodrang Nature Park and enjoy the full view of Thimphu Valley below.
In the late afternoon drive to Paro.
Dinner and overnight at a hotel in Paro.
Day 08: Departure from Paro
After breakfast, drive to the Paro airport and your Bhutan tour guide from Sky Travels will see you off at the Paro International Airport for your flight to your onward destinations.
End of the tour