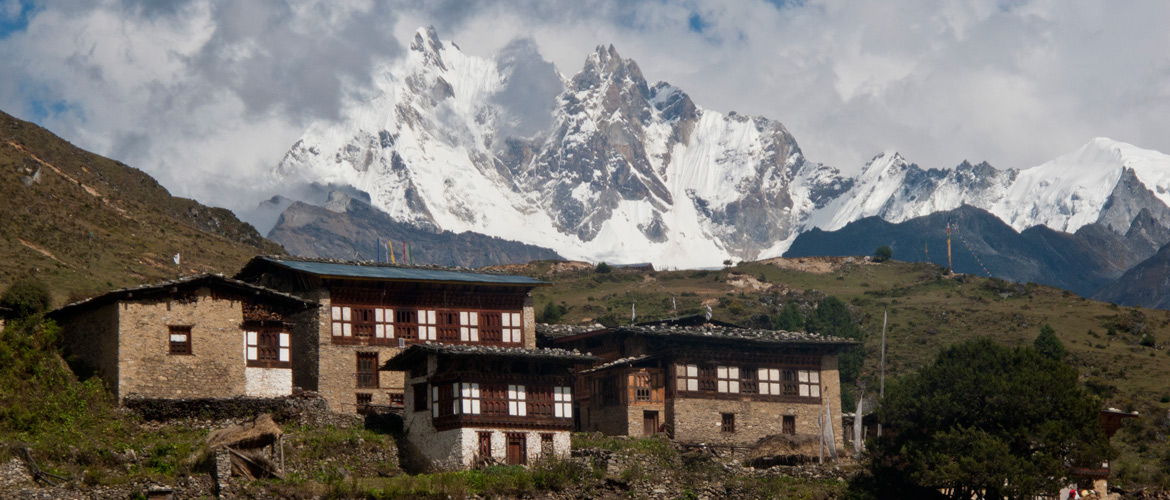 Day 01: Arrive at Paro
Described as one of the most captivating experiences, the flight to Paro offers you views of the Himalayan treasures, such as Mt. Everest, Kanchenjunga, Makalu and other peaks in Bhutan such as the Jomolhari, Jitchu Drake and Tsrim Gang. As the flight descends to land at Paro airport, you will have a bird's eye view of Paro and the adjoining valleys, an experience beyond expression. The landing at the airport is also thrilling.
Our guide will meet you there and take you to the hotel.
Day 02: Paro – Sightseeing
After breakfast, drive to Chele-la pass (3,998 m) to enjoy the beautiful scenery of mountain. This is Bhutan's highest road point.
On a clear day there are superb views of Bhutan's highest peaks –mount Jomolhari (Mountain Goddess) and Jichu Drake.
From a turnout on the main road the trail climbs steeply for 45 minutes to Kila nunnery- is the oldest nunnery in Bhutan which was established as a meditation site in the 9th century.
We drive back to Paro and after lunch visit Ta Dzong, a former Watch Tower which now houses the National Museum and Rinpung Dzong which houses the monastic school and the district administration. After a short stroll in town drive back to hotel for the night halt.
Day 03: Paro – Taktsang Excursion
After early breakfast, drive to Ramthangka (base camp) of Taktsang and begin the hike. We follow an ancient path marked by river powered prayer wheels to the holiest Buddhist Shrine in Bhutan and the ultimate point of pilgrimage.
A blend of the spiritual and architectural wonder, the monastery is perched on a 1000m cliff overlooking the valley. Legend has it that the great Indian saint, Guru Padma Sambhava, flew from Tibet to Taktsang on the back of a tigress to tame five demons, who were opposing the spread of Buddhism in Bhutan in 746 A.D. After lunch at a nearby spot, we walk back down.
Drive to the hotel for overnight stay.
Day 04: Paro – Shana (Distance 17km, four to five hours, 360m ascent, 80m descent, camp altitude 2,850m)
Your trek begins with a drive up to Drukgyel Dzong where the motor-able road ends and the trek to Shana begin. It is a 5 to 6 hours walk with gradual ascends following the Paro river through the agricultural valley and villages. The campsite is opposite the army check post in the meadows, near the river at an altitude of 2,580m.
Day 05. Shana – SoiThangthangkha
(Distance 22km, seven to eight hours, 770m ascent, 10m descent, camp altitude 3,610m)
The trail is a gradual ascend following the Paro river through conifers and rhododendron. The path narrows and closes in and the trail winds up and down along the drainage. Camp is in the meadow with stone shelter built for trekkers surrounded by conifer and birch forest and on clear days one can have a magnificent view of Mt. Jomolhari.
Day 06. Thangthangka – Jangothang
(Distance 19km, five to six hours, 480m ascent, camp altitude 4,080m)
The trail leads bypassing the army post and the valley begins to widen and leading to winter houses of yak herders where hot lunch will be served. Halt camp beneath a ruined fortress at the base of Mt. Jomolhari.
Day 07. Jangothang – Lingshi
(Distance 18km, six to seven hours, 840m ascent, 870m descent, camp altitude 4,010m
After your breakfast you start ascending up the mountainside towards Nyelila. During the ascend you will be seeing Mt. Jomolhari, Mt. Jichu Drake and Tsherim Gang till Nyelila at which point you will be seen off by the former two mountains. There after you will be seeing only Tsherim Gang. From Nyelila pass the trail leads you all the way down to the camp.
Day 8: Lingshi – Chebisa
(Distance 10km, five to six hours, 280m ascent, 410m descent, camp altitude 3,880m)
In what is the shortest walking day, the trek today will initially take you to a chorten below Lingshi Dzong. At this place, one can make the choice of staying on the main trail or taking a diversion up to Lingshi Dzong (4,220m), which sits right atop a ridge.
Unlike other dzongs, Lingshi Dzong offers one a very special atmosphere of mystic silence and a great overview of the valley. Once you cross the Dzong, the trail will take you through the villages of Lingshi and Goyul.
A unique architectural facet you will see in Goyul are the stone houses clustered together to a small compact village that is unusual in Bhutan where village houses are normally scattered. Your camp for the night will be at Chebisa, with a beautiful waterfall behind the village. You have the opportunity to visit local houses and interact with the people.
Day 9: Chebisa – Shomuthang
(Distance 17km, six to seven hours, 890m ascent, 540m descent, camp altitude 4,220m)
Your trail today goes through a wide pastureland towards Gobu La (pass) and you could be greeted by yak herders on the way. You could also spot large herds of blue sheep above the trail. Once you cross Gobu La (Pass) (4,410m), you descend to the valley followed by a brief climb and again a trek downhill to Shakshepasa (3,980) where a helipad has been established. From there you will have to ascend until you reach the campsite at Shomuthang, located above a river, which is a tributary of the Nochu river.
Day 10: Shomuthang – Robluthang
(Distance 18km, six to seven hours, 700m ascent, 760m descent, camp altitude 4,160m).
The walk today would be a little strenuous and so it is advisable to start early. After two hours of uphill trek, you will reach Jhari La (4,750m), from where you catch the first sight of Sinche La, the pass you will have to cross the day after. At the north is the massive snow peak Gangchhenta (6,840 m,) popularly called the Great Tiger Mountain. If the weather is clear, Tserim Kang and the top of Jomolhari will be visible. The camp by the river is called Tsheri Jathang. Herds of takin, the Bhutanese National Animal, migrate to this valley in summer and remain for about four months. The valley has been declared a takin sanctuary.
After a little uphill trek, you will reach the campsite at Robluthang in a rocky meadow.
Day 11: Robluthang – Limithang
(Distance 19km, six to seven hours, 850m ascent, 870m descent, camp altitude 4,140m).
After crossing Sinche La (5,005m) – the last and highest pass on the trek in case you don't intend to continue the Snowman trek from Laya onwards – you descend to a little stone house where a few Laya women – dressed in typical Laya costume with long pointed bamboo hats on their head – live and offer their weaving products. Right behind the stone house you will see an impressive terminal moraine and a glacial lake at the foot of the valley. You can see classic examples of the lateral moraines where the glacier has pushed rocks up both sides of the valley. Below the moraine, you cross the Kango Chhu and soon reach the Limithang campsite. The peak of Gangchhenta towers over the campsite even though it's quite a distance away.
Day 12: Limithang – Laya
(Distance 10km, four to five hours, 60m ascent, 340m descent, camp altitude 3,840m).
It will be an easier day today, as you walk all the way downhill along a narrow winding river valley. The trek will take you through partly deep forest and lead you to the west side of Laya village. You will view Gangchhenta again and also catch a glimpse of Masagang. In the village centre is a community school and a basic health unit with telephone connection. The campsite is below the school.
Day 13: Laya – Koina
(Distance 19km, six to seven hours, 260m ascent, 1,070m descent, camp altitude 3,050m).
It is a trail winding up and down along the river valley of Mo Chhu avoiding natural obstacles and affording breath-taking views of the crashing river, feeder streams and water falls. After a series of ascend and descend, the trail will lead you to Kohi Lapcha at 3.300 m. It then drops down to the large stream of Koina Chhu, where you will find the campsite of Koina.
Day 14: Koina – Gasa
(Distance 14km, six to seven hours, 740m ascent, 1,500m descent, camp altitude at Gasa Tsachu 2,240m).
You will be experiencing the last major climb of the Laya Gasa Trek today. Once you cross Bari La (3,740m), it is a down-hill trail all the way till Gasa village (2,770m). Restaurants, which you did not see since starting from Drukgyel Dzong will greet you. There also is a campsite close to Gasa Dzong. (You will have to decide if you want to stay in Gasa village or descend for another hour to the Gasa Tsachu (hot springs) and relax in the thermal water. The Gasa Tsachu is one of the most popular hot springs in Bhutan.
Day 15: Gasa – Damji (Distance 18km, five to six hours, 480m ascent, 470m descent, camp altitude 2,250m).
Beginning with a short climb, the trail again winds through lots of ups and downs, along rolling hills, passes, pine and oak forests, villages and wheat fields. You will also see a beautiful view of the Gasa Dzong glued to the valley wall as if floating in space. You finally reach Damji with its well maintained campsite.
Day 16: Damji – Tashithang (Distance 16km, five hours, 250m ascent, 870m descent).
Descending from the high agricultural benches above the Mo Chhu into a lush semi-tropical gorge filled with banana trees, creepers and various tropical vegetation, the trail will take you through areas where monkeys and a few other animals might be seen occasionally. The road actually leads further than Tashithang and will soon reach Damji. You can save about two hours of walking when you arrange transport from the current road head. You will be picked by your car and driven to Punakha.
Day 17. Punakha – Thimphu
After breakfast, we visit Punakha Dzong, which was the ancient capital until 1966. The remains of the Zhabdrung, the saint who unified Bhutan in the 17th century are interred here. The Je Khenpo, head abbot of the monk body of Bhutan, resides here with the monk body from Thimphu during winter. En-route to we will visit ChhimiLhakhang, which was built in the 15th Century (dedicated to Lama Dukpa Kinley also known as divine mad man). It is a pilgrim site especially for childless couple and is a half an hour walk across a local village and rice field. Everyone in this kingdom believes that the Lam's blessings will help a woman conceive. Continue driving to Thimphu.
Overnight halt in Thimphu.
Day 18: Sightseeing in Thimphu
You will visit the weaving centre, Memorial Chorten (a huge stupa) built in memory of the third King of Bhutan, Jigme Dorji Wangchuck, Changangkha monastery, built in the 12th century, Takin zoo, Buddha Point, where the statue of the world's largest Buddha is being constructed; a Nunnery and the Arts and Craft school. You will also be taken to Sangaygang, a place from where you can have a bird's eye view of Thimphu town and the surroundings.
In the evening we will visit Trashichhodzong, the seat of Bhutanese polity, which houses the King's office, Throne room and is the summer resident of the Je Khenpo (Chief Abbot) and the central monastic body. Drive back to hotel at hold at hotel.
Day 19: Departure from Bhutan
After breakfast, drive to Paro international airport for your onward flight. Our representative will see you off.